It isn't often that I run across a new tool for small business CEOs that I can wholeheartedly endorse, but I've run across just such a tool in the last little while and I want to pass that on. ZipBooks is a free tool to manage your billing, expenses and time. It tracks everything you need to stay on top of your accounts receivable.
There are a lot of invoicing tools out there where it starts to feel like a flea market–lots of free and cheap options but you can't quite be sure of the quality until you bring it home. ZipBooks is different in that it feels like a premium accounting app but without a monthly subscription. I was skeptical at first but ZipBooks makes its money by giving small business owners access to short-term financing in the form of a cash advance.
Because you're already in ZipBooks sending invoices, processing payment and pulling in bank expenses, they can make fast underwriting decisions. Once you are approved and start financing invoices, you can have money in your account within one to two business days.
I don't intend for this to be a comprehensive review; I just want to go over the features I feel like set ZipBooks apart from other run-of-the-mill accounting / invoicing apps you might be familiar with from your own research.
Recurring billing
The ability to automatically charge credit cards is consistently a paid feature even on freemium accounting programs where you can get much of the basic invoicing functionality for free. The reason most companies charge for this is that they know that if a company is at the point where they're charging a customer every month, they probably also have the budget to pay for accounting software.
ZipBooks looks pretty unique in that you can send an invoice to a customer and have them enter their credit card information without ever having to leave the invoice. The form is built right into the invoice! After that the customer doesn't have to enter their credit card information again. ZipBooks also covers its bases by notifying the customer in 3 different places on the invoice that they are going to be charged on a recurring basis. Once a customer enters their billing information, it allows ZipBooks to bill your customer through Stripe over and over again.
I was also impressed by the level of customization that was available in the recurring billing. For example you don't have to process credit cards if you don't want to. You can just set up a profile to send invoices with automatic billing. If you do opt for credit card billing, you can set the frequency and the total number of times you want to bill your customer.
Right now this feature is only available through Stripe but at 2.9% + $0.30, you really can't beat the price.
Bank integration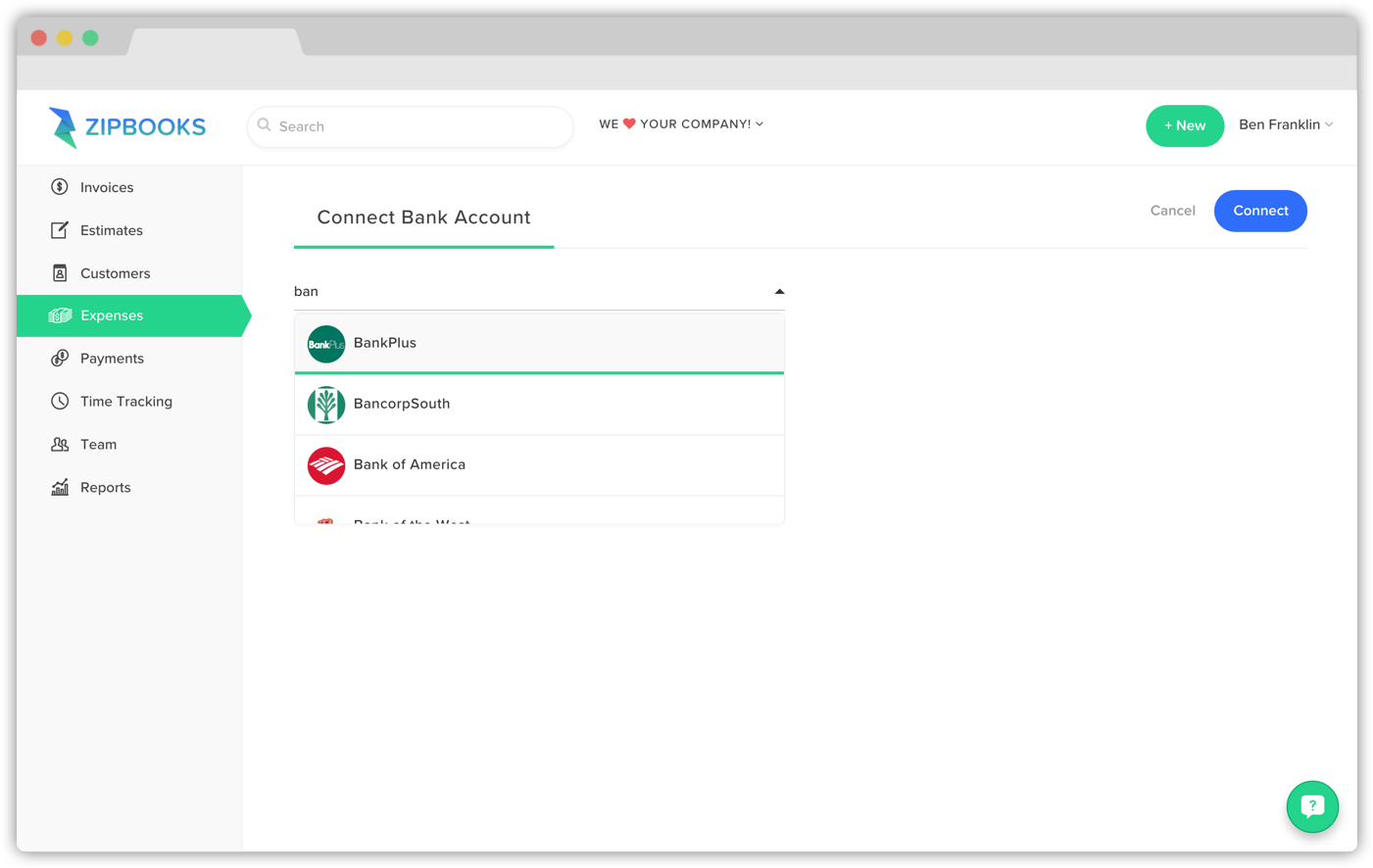 Integrating with your bank was another feature that I was surprised to find on a free accounting software program. No invoicing app (paid or free) is going to have that feature available. You are limited to using more expensive software programs like QuickBooks.ZipBooks supports many banks in the United States and Canada. It's really easy to find out if your bank is supported because as soon as you start typing into the search bar, it shows all the matching banks that you might be looking for based on what you have typed so far. Once you connect your account, it automatically pulls in all of your expenses into a nice list in the expense section. It looks like ZipBooks is planning on displaying payments as well in the near future when they finished building out double-entry bookkeeping. For most of us who are running cash-based business, what they have set up now gets to job done.
Mobile access
Another feature that gives ZipBooks a real premium feel is the level of attention they have given to the details around running a small business. It seems like they understand small business owners aren't always in the office. Unlike a lot of other (even paid) accounting / invoicing apps, ZipBooks' interface looks really good in a mobile browser. I like the fact that they're not bogged down by old technology. They've built a mobile-first application for small business accounting.
ZipBooks has also invested early in building an iPhone app. Based on the reviews in the App Store it looks like people are loving the iPhone app. It's packed with most of the features of the web app including creating and sending an invoice, creating and sending an estimate, using a time tracker, and even financing an invoice from your phone.
Invoice financing
In this case I've saved the best for last. There just aren't any other programs out there that get money to small business owners faster than ZipBooks. After you apply for invoice financing and get approved, you're going to see a new button on all the invoices that you send out to customers. It's like you're Neo from The Matrix–press the blue button to send your invoice and press the green button to send your invoice and get paid.
But unlike in The Matrix, if you change your mind later you can always go back and press the green button and finance an invoice after the fact. Even if you don't get the full amount approved, you can always partially finance an invoice. The cost of borrowing is an origination fee around 1% + .5% / week. It works out the be about what you would pay on a credit card transaction if your customer writes you a check in a couple of weeks. It gives you more options to get paid.
It takes about two seconds to sign up if you already have a Gmail account so I'd say head on over and check it out.